A house with five people living in it accumulates paperwork. The end of our dining room table tends to resemble a sort of permanent paper pit. I've had a few goes at trying to tame it. Mark one involved a collection of baskets, one for each family member. This sort of worked for a while. Then the baskets migrated to various people's desks and bedrooms and the invasion of odd paper took over again. The biggest problem is that the important stuff tends to get buried and there has been a bit of tardy bill paying going on around here lately (too much in fact). We clearly need to have the important stuff in our faces for it to register.
Then we were watching one of those ubiquitous Friday night Home and Lifestyle shows and I saw the perfect solution - a clipboard wall! I can't find a picture similar to the one that was on the TV show which was a batch of bright primary coloured painted clipboards, but here are some similar ideas from out there on the internet. Most of these are being used as inspiration boards / walls but it should work as organization too. I'm really loving the antique number plate ones.
Via Martha Stewart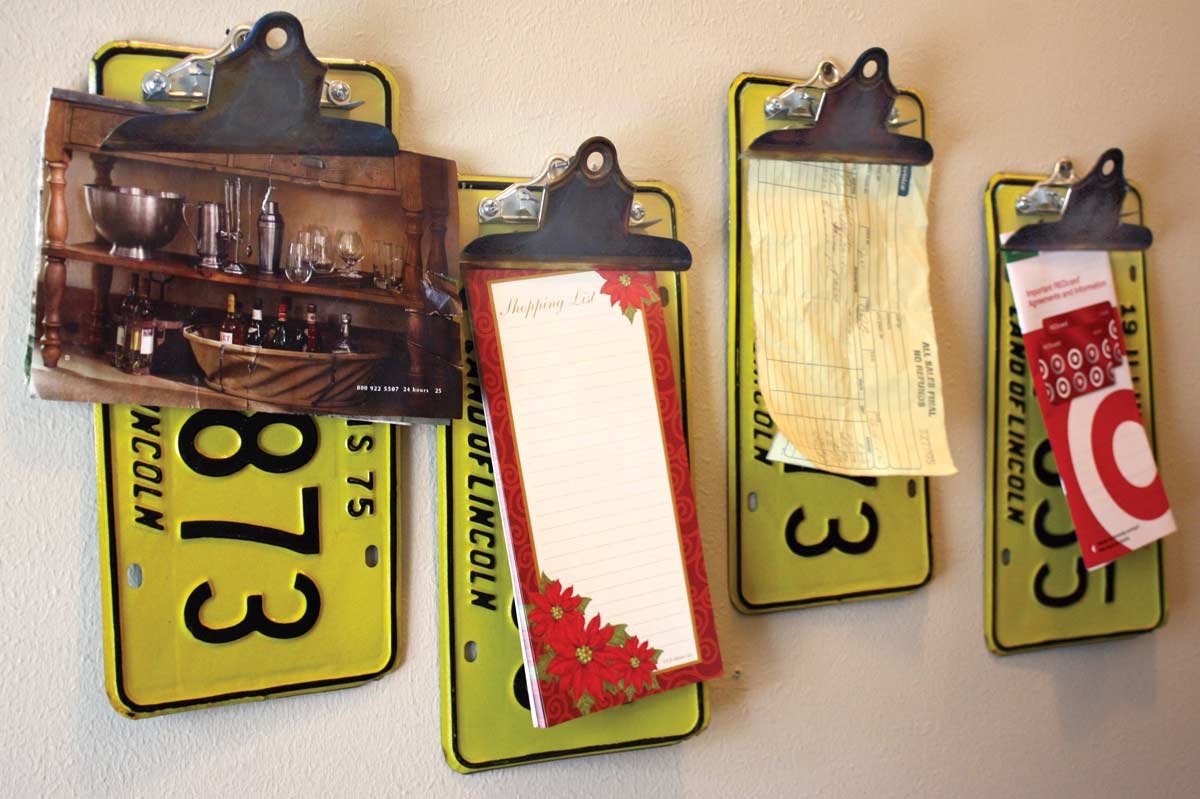 So I went shopping and about $70 or so later, I had the makings of the new wall. I went for 8 non-matching clipboards and two small square metallic white boards. I like the vintage look of unmatching and wanted at least one old fashioned wooden one. The clipboards cost between $2.99 and $7.99 (The stainless steel one and the display one). The little metallic white boards were $10 each. If your trying to do something similar I suggest Officeworks. They had the most extensive range.
Then the boy and I spent a fruitful hour or so with the level, the laser level, some picture hangers, a pencil and a hammer. And no one swore at anyone and the fingers survived intact. Not always a sure thing with me and tools. I don't have a good photo of the completed wall before the paper and bits and pieces moved in as it is (a) in an awkward place to photograph in a very narrow room and (b) directly opposite a very sunny window and the lighting is a mix of flare and shadows.
The bottom one is a display clipboard where you can slide something into the folder.
I'd love to get a clear picture of the white boards. I thought the little magnets that came with the white boards looked like eyes, so I drew an owl on the pink one and used the magnets for eyes. The boy then drew a dalek exterminating an owl on the green one. (Come to think of it, there is also a dalek exterminating things on the blackboard in my kitchen. Actually it is saying, "eggs-stir-mix-bake". I sense a theme here).
The boards were populated with the odd things found lying on the table. However, no bills yet! It's nearly Christmas. Let's not depress everyone with reality yet.