Every so often something just pushes its way to the head of the queue and forces me to knit it
NOW
! I had no intention of knitting a shawl. I have two on the needles currently (
Brown As
- a traditional triangle lace shawl and
Lacewing
a free form knitted and crocheted shawl inspired by the colours of a blue wren's wing). I really didn't plan to make another. But Melba (one of the moderators of Ravelry's International Free Form group) dangled this pattern under my nose and even though I didn't find the original very inspiring knitted as it was in a single colour, there was enough mystery in trying to figure out how it was constructed to make me drag some yarn out of the stash and just knit up a little sample to see how it worked. (Note to self for future reference: this was in hindsight perhaps a bad idea. Resist the intriguing knitting puzzle a little harder next time).
Lacewing
) in a gorgeous varigated cream, grey and tan yarn. I discovered this pattern just shows off a short repeat variegated yarn to absolute perfection. And in my stash I had just the perfect thing to use: two balls of a acrylic print called Instinctive designed to knit up into a sort of a fake dead animal print.
Pattern:
Summit Shawl
by Mandie Harrington from Knitty Spring+Summer 2010 - a free pattern
Needles:
4mm straights
Yarn:
Moda Vera Instinctive, colour 51, black, white and caramel, 100% Acrylic, used 2 by 100 g balls. Bought on sale for $1 each. (So yes, total cost only $2!)
Total elapsed knitting time:
11 days....
The original knit in progress shot that inspired the hundreds of snakes comment
I wet blocked the shawl when I finished it but it didn't hold its shape when dry and the pins were removed due to the acrylic yarn. I wore it once but wasn't happy with it because it didn't drape nicely and kept slipping. So I decided to aggressively steam block it to 'kill' the acrylic. Much happier with the finished stole / shawl now!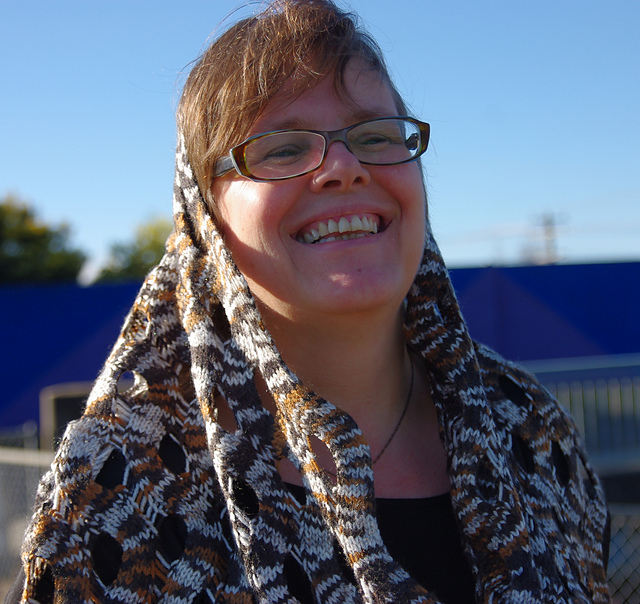 Not sure I can pull it off as a head scarf.
The back view