About the time I began writing this blog (about 6 years or so ago) my children decided that handmade knitwear was actually something you could wear, be seen in public with, acknowledge to all and sundry that 'Yes, it was in fact hand-knitted and my Mum made it for me' and be proud of it. Only a fellow knitter understands the myriad proud feelings that come with your teenage / young adult children arriving at this realisation. We started slowly with accessories and gently progressed to whole garments.
Since then I've made the boy a handmade jumper, a scarf and five hats (as well as a knitted stuffed deer head for the Boy Cave). That reminds me, I've made three of these hats fairly recently. Stay tuned for a hat blog post featuring the boy wearing hats! He also has a queue of matched yarn and jumper / cardigan patterns waiting for me to get around to knitting them.
Not so Little Boy Blue and wearing Graeme the hat!


Examination in brioche
The middle daughter Mel (
The Fanciful Fungirl
) still lives at home and so is in a prime position for subtle nagging and tempting suggestions of what she really needs knit for her next. Her tally so far is two berets, three beanies, a knitted cloche hat, two pairs of fingerless gloves and two jumpers (and a knitted cover for her tablet computer complete with bumble bees). She also tends to bring out my design instincts, commissioning unique hand knitted pieces.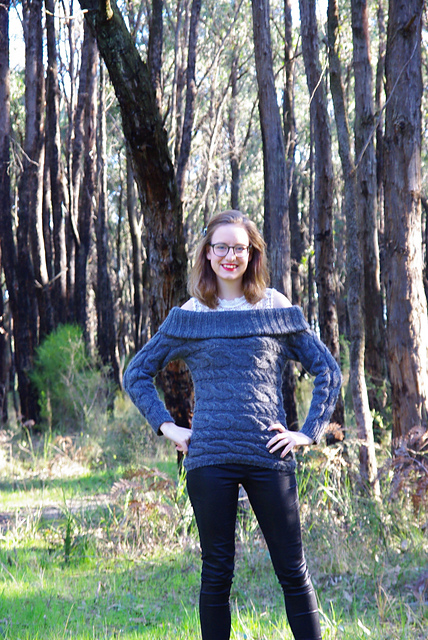 Funky Chunky
Cables of Europe
Sunrise / Sunset using hand dyed yarn
The eldest Doctor daughter has sadly missed out on her fair share of the knitted bounty to a certain extent. Oh, I've knitted her three berets and a slouchy hat but that is it... (The fact that she knits herself does contribute to this a bit. She made her own intricately cabled cover for her laptop and a lovely seed stitch cowl and last time she was home snaffled some knitting needles and raided the stash for squishy wool to make some more accessories and cushion covers).
Selbu Modern
Slow Flurry on me, the daughter wearing her own hand knitted seed stitch cowl
She hasn't yet got a hand knit jumper and I decided in November it was time to remedy that. After all November is NaKniSweMo - National Knit a Sweater (of more than 50,000 stitches) Month. This time my needles were going to be dedicated to making a jumper for the Doctor daughter.
Making a jumper for an adult with their own distinct personal style is a process of research and negotiation. We began with looking at the European runway fashion for knitwear for the upcoming Winter season. Brioche, rib, cables and fair-isle (often in monochrome colourways) were the common knitwear themes. Oh and fringes!! Let's not go there, ever! She sent me photos of jumpers she had found in the shops that she had debated buying. It looked like something in a defined rib with shaping flaring out towards the bottom was on the top of her list. The colour choice was easy - grey. We often joke until fairly recently my daughter's entire wardrobe was shades of grey punctuated with black exercise wear and the odd other neutral (cream, white, denim and occasionally mushroom).
A knitted jumper is a big commitment and if done right out of good quality yarn should last for 20 or more years. So what ever we made should be classic enough not to go out of style too quickly. But it needed a modern edge. The jumper we eventually chose is classic fisherman's rib but with very modern lines and shaping - Fisherman Redux.
Pattern:
Fisherman Redux
by Vera Sanon
Needles:
3.75 mm and 4.5 mm
Yarn:
Bendigo Woollen Mills Stellar 8 Ply, Colourway 105 Shell - 4 by 200 g balls. This is a wool and bamboo blend with a lovely soft drape and lustre.
1st November
as I didn't have anything suitable in the stash. (Thank Bob for online mail order). I did swatch with some op shop yarn but the texture didn't do the pattern justice. The yarn arrived Thursday
5th November
- swatched to make sure that my gauge was spot on. It was! And then I cast on on Friday night
6th November
. I worked up the band - around 1000 stitches and then realized I had started the 1 by 1 rib on a knit and it needed to be a purl. Teach me to think know what I'm doing without carefully reading the pattern…. So I ripped it all out again and followed the pattern instructions for 1 by 1 rib. Only 4 rows and
255 sts
on day 1. Saturday
7th November
was move the boy home form Geelong at the end of the Uni year - lots of scope for car knitting.