The big acessory for Winter 2009 in Australia was the beret. They were traditional french felted with the little apple stem on top, made of soft fluffy mohair and delicately beaded, chunky crochet or knit or delicate lace knits. My girls dragged me to look at lots of them in various shops and I looked at the price tags (up to $50AUD) and thought I can do better (and it will be cheaper!). Thus was born the
Beret Project
.
This awesome example of Beret as accessory is from K is for Kani


(I only discovered Kani's blog when I was looking for photos for this post but I'll be back. I'd love to have her sense of style.I suggest you check it out).





Forever New





Now I'm an old school knitter; I learnt all those technical skills like knitting in the round on a set of 4 double pointed needles (dpn). So I went hunting for a pattern knitted in the round and raided my stash for some wool / yarn. I searched the vintage knitting books I had here and then the internet for free patterns. The delicate lace patterns in 4 and 5 ply appealed to me the most but I thought I try something a little less intricate as a first attempt.
So here's what The girls and I agreed upon for the first berets. '
Reverie
' a pattern by Amy M Swenson from the Spring 2009 Issue of
Knitty
. I'd recommend this as an ideal pattern for those wanting to try knitting a beret in the round for the first time as the pattern is simple and easy to keep track off.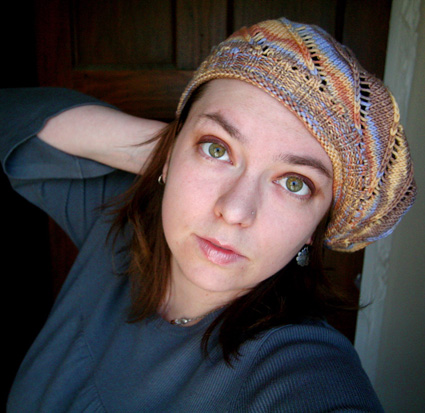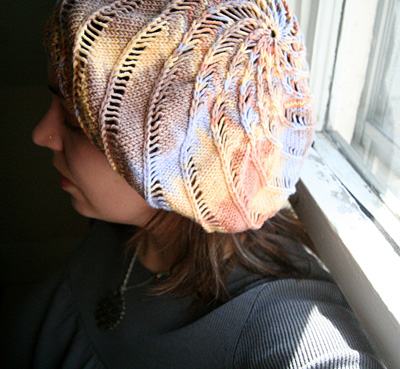 The eldest daughter is a lover of all things gray / grey (pretty much her entire winter wardrobe is gray / smoke / charcoal / gunmetal or black), a great fan of the hat and dresses with that Melbourne edge I admire but never can quite pull off, so she got to be the proud owner of the first beret. I got the beret to stand still for its beauty shot but don't have a photo of her wearing it as it hard to get someone to pose for a photo when they are overseas at the moment! However, it was a great success and it is still one of those skin graft garments two winters later.
The wool is a fine 8 ply machine wash in a very pale grey marle. It was knitted on a set of US #3/3.25mm double-point needles. After knitting, the beret was thoroughly wet and blocked using a dinner plate to get the shape. (You wet the beret, place it over a dinner plate of the right size and run a scrap piece of wool as a gathering thread through the brim stitches and pull it up tight. Then leave the beret till it is completely dry remove the gathering thread and ease it off the plate. If the beret loses it shape after repeated washing and wearing, you can repeat this process again).
The other daughter,
Mel
, chose a fine 8 ply black mohair from the stash for her beret. It was also knitted on a set of US #3/3.25mm double-point needles.This was much less pleasant to knit (I'm slightly allergic to mohair and while I can knit with it in small doses, I can't wear it myself). The beret had to be pulled out and re-knit a few times as it was impossible to pick up dropped stitches as they were extremely difficult to see. I don't recommend trying to knit a lace pattern in black unless you are a patient knitter! However the result was worth it (though the pattern is not as obvious in the fuzzy wool).
So here's the black beret and Mel wearing it.
Berets are addicitive. Part of the attraction is that they are relatively quick to knit. Each of these took about a week to knit. So this was just the beginning....
To be continued....